Rest Calm Nurture
Comfort Touch® is a nurturing style of massage that is designed to bring the benefits of touch to a broad range of people.

Its primary intention is to provide comfort, deep relaxation, and relief from pain. Comfort Touch® does not require the use of oil or lotion, so that it is possible to work with a client who is fully clothed.

While Comfort Touch® can be used to ease the physical and emotional pains of the elderly and those in medical settings, it can also enhance the quality of life for anyone in need of a caring touch.

RESOURCES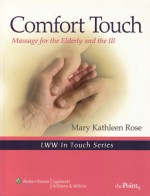 Comfort Touch:Massage for the Elderly and the Ill
By Mary Kathleen Rose
This is a textbook designed to inform the caregiver who is interested in bringing the benefits of touch to a broad range of people in need. It will give the reader the confidence to practice this nurturing form of acupressure in a variety of settings, including hospices, hospitals, skilled nursing facilities, and home care. The practitioner can learn techniques that are safe and appropriate for the population for whom conventional massage may cause discomfort or even injury. It will give the reader an understanding of the physical and emotional needs of the elderly and those suffering from chronic illness and/or injury. The book is ideal for massage practitioners and students as well as nursing and allied health professionals.

Includes:
Understanding Health; Issues of Illness and Aging; Loss and Grief; Approaching the Client; Principles and Techniques of Comfort Touch; Special Populations; Communication and Documentation; Self-Care of the Caregiver; Program Development.

Lippincott Williams & Wilkins, 2009. ISBN 0-7817-9829-9.
156 pages, 8.4" x 10.8" 111 photos and illustration.
To order Comfort Touch® send check or money order for: $44.95
plus $5.00 (S&H) to:
Wild Rose, P.O. Box 2455, Longmont, CO 80502 USA
Comfort Touch:Massage for the Elderly and the Ill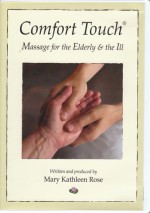 Video DVD -
Comfort Touch®:Massage for the Elderly and the Ill

This beautifully produced video introduces the viewer to the principles and techniques of Comfort Touch®, a nurturing form of acupressure designed to be safe, appropriate and effective for the elderly and the ill. Drawing on her many years of experience practicing and teaching this work in home-care and medical settings, Mary Kathleen Rose shares the essential elements of Comfort Touch with demonstrations of its applications in the seated, supine and side-lying positions.

This program will inspire the viewer - whether healthcare professional or family caregiver - to offer the benefits of touch to those for whom conventional massage may cause discomfort or even injury. While Comfort Touch provides soothing relief for the elderly and the ill, it can enhance the quality of life for anyone in need of a caring touch.

Comes with 40-page Video Guide which includes:
- Principles and Techniques of Comfort Touch
- Benefits of Comfort Touch
- Precautions in the Use of Touch
- Self-Care Exercises for the Caregiver.

To order Comfort Touch send check or money order for: $89.00 (Library Edition) or $29.00 (Home Use Only) plus $4.00 (S&H) to:
Wild Rose, P.O. Box 2455, Longmont, CO 80502 USA

Additional Resources:

BEREAVEMENT: Dealing with Grief and Loss by Mary Kathleen Rose, CMT;
Wild Rose, 1996. ISBN 0-9636234-3-5

Written for the bereaved individual, as well as for family, friends and professional caregivers, this 30-page booklet helps the reader to understand the grieving process. It talks about the losses for which a person grieves; including death, divorce, changes in health status, job loss, moves, etc. Bereavement describes different aspects of the cycle of grief and gives helpful suggestions for coping with the stress of loss. It gives guidelines for friends and caregivers to better support bereaved individuals in dealing with loss. Bereavement includes sections on:
* Losses
* The Cycle of Grief
* Coping Skills
* Supporting Others

To order Bereavement send check or money order
$5.00 plus $2.00 (S&H) to:
Wild Rose, P.O. Box 2455, Longmont, CO 80502 USA

See www.comforttouch.com for many articles and stories, some published in Massage & Bodywork Magazine.