Relax Renew Reclaim
The goal of effective massage and bodywork is to help you relax and let go of the tightness that can develop from emotional tensions such as stress, sadness, or worry.
I offer a method of bodywork that not only helps you relax in the moment when you receive a session, but also has an enduring impact as you go through your daily life - in business meetings, parenting, with your families and friends and all the things that you do.
Many years ago when I discovered Rosen work as a client, I knew that I had struck gold. It was love at first touch. Rosen bodywork has taught me to experience my body as a whole, from the inside out. Part of this process is an awareness of one's breath, through which the body deeply relaxes and lets go of physical tensions and difficult feelings. Breath awareness is a core technique of modern day massage and bodywork and has been taught for thousands of years in the eastern traditions of tai chi, yoga, and the marital arts.
In a bodywork session, you, the client, become aware of your breathing and internal processes, and you experience a deep relaxation and peace that lasts long after a session has ended.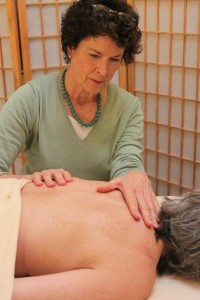 Current Work
Rosen Method Bodywork
Comfort Touch®
Cancer Wellness Program at Synergy, A Medical Fitness Center, Queen of the Valley Medical Center
Member of the California Board of Registered Nurses
Location
Synergy, A Medical Fitness Center - Queen of the Valley Medical Center, Napa CA

Publication
Massage & Bodywork Magazine - May/June 2011
"Rosen Method Bodywork - Study Points to Benefits of Integrative Program"
By Maracie Wilson and Sylvia Nobleman, with Helen Morgan http://massagebodywork.idigitaledition.com/ Pages 58-67
Executive Wellness Program: An Integrative Wellness Approach Utilizing Rosen Method Bodywork, Maracie Wilson & Sylvia Nobleman, pp. 4 - 10. Volume 2 Issue 1 - 2009
People who participated in an employee wellness program in California that included Rosen Method Bodywork along with diet and exercise showed significant reductions in blood pressure, body weight and body fat and an increase in perceived quality of life.
Rosen Journal
Teaching/Lecturing
I have assisted at 7-Day Rosen Method workshops in Berkeley and Ukiah with Marion Rosen and many gifted teachers - February, October 2004, February, August, October 2005, February, October 2006, February, October 2007, February, October 2009, February, October, December 2010, February 2011.
I have presented Rosen Method Bodywork and Movement Introductory Evenings and Afternoons, with co-teacher, Karen Peters, on a bimonthly basis from January, 2007 through June 2010 at Synergy, A Medical Fitness Center, Queen of the Valley Medical Center, Napa, California. Karen M. Peters is certified both as a Rosen Method Movement Teacher and an Alexander Technique Teacher.
Participated in a Community Forum — "Fight Back Against Cancer."
St. Helena Public Library, August 2009
"Body Listening Through Rosen Method Bodywork," Pharmaca Integrative Pharmacy, Napa, January 15, 2008
Contact me to discuss your bodywork needs:
Telephone: 707 738-4054
Email: sylvianobleman@gmail.com